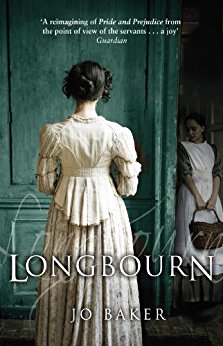 Subtitled Pride and Prejudice - the servants' story, Jo Baker's captivating novel takes us behind the scenes of Jane Austen's world to the routines of toil and effort which allow the Bennet family to live in leisure and comfort. To Mrs Hall, the housekeeper, the arrival of Mr Bingley at Netherfield Park, which gives Pride and Prejudice its famous opening sentence, "meant a flurry of giggly activity above stairs; it meant outings, entertainments, and a barrowload of extra work for everyone below." Elizabeth's boldness in crossing the fields to Netherfield to visit her stricken sister is seen in Jane Austen's novel as demonstrating her lively independence: here, to Sarah, the housemaid, suffering from painful chilblains that flare and crack at every exposure to cold and wet, "If Elizabeth had the washing of her own petticoats ... she'd most likely be a sight more careful with them." The smooth running of the household means that housemaids must be up before first light, emptying slops, fetching water and lighting fires; an evening out requires the footman, James, to wait out in icy weather with horses harnessed ready to convey the ladies home.
If you read this hoping for romantic encounters between Elizabeth and Mr Darcy, you'll be disappointed; Jane Austen's key players are in minor roles here. Mr Darcy barely appears in person, and he is certainly not Colin Firth. We see the Bennets' acquaintances only as they affect the servants: Mr and Mrs Hall, Sarah, and the younger, pre-pubescent girl, Polly. When Mr Collins arrives in search of a likely wife, we see the insecurity of the servants' livelihoods, for it will be in his power to dismiss them all, should he wish, when he takes ownership. Mrs Hall is relieved when he settles for the homely Charlotte Lucas. A servant like Sarah - an orphan taken in by the stern but kindly Mrs Hall - has nothing to call her own beyond the wooden box in which she keeps her few possessions; not even space, as she shares a room, and a bed, with Polly. Moments of privacy can only be snatched between chores. When she and Mr Bingley's footman are mutually attracted, she's surprised at "the dawning revelation that pleasure was possible for her."
The plot hinges on the arrival and later disappearance of a young manservant who joins the household, James Smith. The secrets of his past are revealed partly through the machinations of George Wickham, the predatory charmer. Jo Baker picks up on the small detail in Pride and Prejudice that a soldier of the visiting militia has been flogged; here Sarah witnesses the brutal act while on an errand to Meryton, later connecting it with James's story. A middle section takes us back to his army service during the Napoleonic wars, and into territory which ranges far from Longbourn and middle-class Hertfordshire. Mrs Hill, too, has a back-story which throws an intriguing - and plausible - new light on the Bennets' marriage.
While this is a compelling novel in its own right, it closely parallels the events of Pride and Prejudice, with the fairly safe assumption that readers will be familiar either with the novel or with one of the many adaptations. But there is no attempt to imitate Jane Austen's style. In fact readers may find more similarities to Charlotte Bronte's Jane Eyre, in Sarah's passionate love for James, her fierce loyalty, and in particular in the descriptions of landscape and weather. Here is James, alone on a beach (you'll never find anything like this in a Jane Austen novel, where landscape is seen only as evidence of status, taste and good management). "He slipped away to the shore, and walked across the low headland; it fell away into a spit of sand, the grasses thin and fine as old men's hair, the sand drifting and scattering and settling; and white shells and then bleached bones, and then a sheep's skull, picked white, which made him catch his step a moment, not at what it was but at what he thought it might have been. Then skipping sand-fleas, and trails of dried seaweed, and he was out to the edge of the world."
Jo Baker writes with complete assurance, bringing her characters and settings vividly off the page. Her story isn't unique in being a spin-off from Pride and Prejudice - Emma Tennant, in Pemberley, and P D James, in Death Comes to Pemberley, have also drawn on this much-loved classic. But in my view Longbourn, with its shift of focus, outshines both.