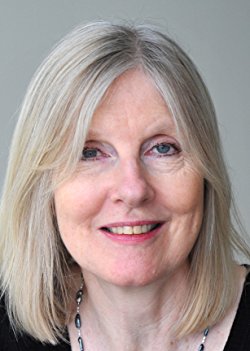 I never met Helen Dunmore or heard her speak, but somehow feel that I have, through the impact her books have made on me as both reader and writer. 
She died just two days before the announcement of the Baileys Prize for Women's Fiction, of which she was the first winner (in its original incarnation as the Orange Prize) for A Spell of Winter. In her last few days she wrote a poignant poem about the approach of death, Hold Out Your Arms. She was a poet as well as a novelist, and it showed in everything she wrote: in the precision and sensuousness of her language and the seductiveness of her rhythms.
Her first novel, Zennor in Darkness, was widely praised for its freshness and immediacy and the luminosity of its prose. I read that on publication and have read most of her books since. Her subjects were wide-ranging: the First World War and its aftermath, the Siege of Leningrad, the French Revolution seen from England, domestic life with its tensions and rivalries. In The Greatcoat was a novella for Random House's Hammer series in which a haunted figure brings back the terrible losses of aircrew in the war (a subject which resonates with me, as my father was a navigator in Bomber Command). She could be deeply unsettling, as in the relationship between brother and sister in A Spell of Winter and between sisters in Talking to the Dead. Everything she wrote had her distinctive stamp of honesty, insightfulness and lyricism. 
She wrote wonderfully about landscapes and weather, especially in the coastal settings she loved. Here is Daniel, in The Lie, looking down from a cottage roof. "There was the brown, bare, sinewy land running down to the cliffs. There were the Garracks, and Giant's Cap, and the Island. There was the swell, like a muscle under the sea, moving in long, slow pulses to Porthgwyn. I looked west and saw rainclouds, damson-coloured and making a bloom of shadow on the sea." She was always good on food, as here, when Nina in Talking to the Dead makes a tart: "the apples must be cut evenly, in fine crescents of equal thickness, which will lap around in ring after ring, hooping inwards, glazed with apricot jam. The tart must cook until the tips of the apple rings are almost black, but the fruit itself is still plump and moist. When you close your eyes and bite you must taste caramel, sharp apple, juice and the short, sandy texture of sweet pastry all at once." It's enough to make you salivate. Food is abundant in this novel, while in The Siege she wrote powerfully and unforgettably about hunger and cold, desperation and survival.
Completing her final novel, Birdcage Walk, she knew of her terminal cancer. In its Afterword, she wrote: "The question of what is left behind by a life haunts the novel. While I finished and edited it I was already seriously ill, but not yet aware of this. I suppose that a writer's creative self must have access to knowledge of which the conscious mind and the emotions are still ignorant, and that a novel written at such a time, under such a growing shadow, cannot help being full of a sharper light, as a landscape becomes brilliantly distinct in the last sunlight before a storm."
I'm glad now that there are Helen Dunmore novels and poems I haven't yet read. I will ration them out to myself, in order not to use up the new reading experience too quickly. She was an exhilarating, generous talent whose words sing from the page and will ensure that she is remembered.

(This is part of a joint tribute posted by Adele Geras, Celia Rees and myself on Writers Review.)