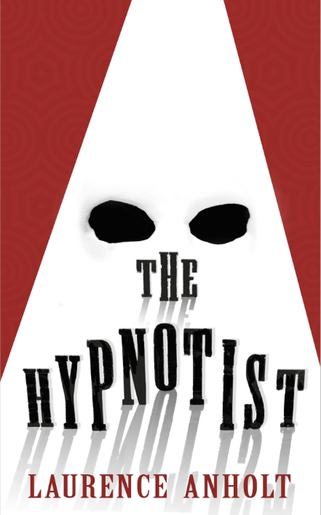 (This review first appeared in Armadillo magazine.)
Laurence Anholt is well known for his picture books, which include joint productions with his wife Catherine. This, his first young adult novel, is a new departure, and certainly a striking one.
Set in 1963 in the American Deep South, The Hypnotist tells the story of Pip, a black boy taken to work for a slovenly, gruff but not unkind farmer, Zachary, and his bed-bound, tender-hearted wife Lilybelle. There Pip meets two people who will become companions and allies: Hannah, a beautiful Native Indian girl, and Irish neighbour Jack Morrow, a university lecturer in Neurology, the hypnotist of the title. Also resident at the farm is the fearsome Erwin, irreparably damaged by his experiences in Vietnam.
Strange goings-on in a barn close by are revealed to be meetings of the Ku Klux Klan, of which Erwin is a local leader. Spying, Pip is horrified by the ghostly pointed hoods, and even more by the rhetoric: "We're here to defend our country 'gainst the invasion o' Negroes, Mexies, Injuns, Jews an' all them … non-Whaites who's tryin' t' steal it from our hainds …" (Now who does that remind you of?) Discovery leads to a terrifying ordeal for Pip from which he's lucky to escape alive.
The structure alternates between Pip's third-person viewpoint and Jack's first-person narrative, separated at intervals by the poems or songs created by the silent Indian girl, Hannah, with whom Pip falls in love. From Jack's adult perspective we see the hold exerted by the Ku Klux Klan on policing, law and even the university. At first pleased with the prospect of promotion, he's dismayed when he learns that advancement is conditional on joining the Klan.
The Hypnotist is a powerful evocation of a period of prejudice and injustice rarely covered in fiction for young readers, with a touching three-cornered relationship at its heart. Echoes of Great Expectations (Pip is named after its hero, and carries the book with him) run throughout, but are not overdone. By the end, though, I felt that Morrow's ability to mesmerise is, in effect, a get-out-of-jail-free card, used rather illogically. Given the chance to influence the murderous Erwin for a second time – and after realising the threat he poses to Hannah - Morrow sets up a lurid, melodramatic dénouement when he could simply have persuaded Erwin not to go near the girl and never to harm anyone again. Indeed, I think that the hypnotism plot device detracts from the all too horribly realistic portrayal of white supremacy and the terrors facing people of colour – but other readers will no doubt disagree.
An Author's Note about Laurence Anholt's family history (far removed from the Deep South of America) is just as fascinating as Pip's story. I wonder if he will, as he first intended, go on to write about that.