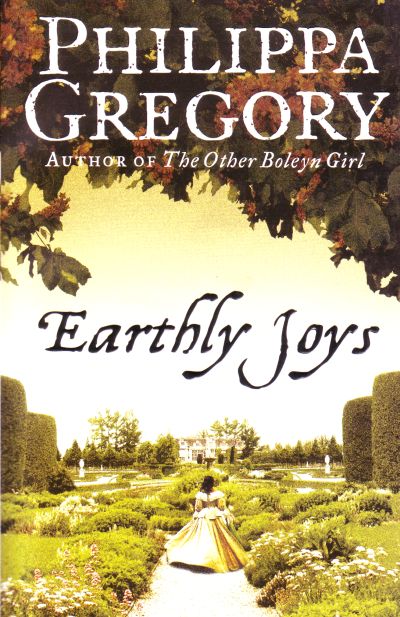 I was drawn to Earthly Joys by its subject, the influential 17th-century gardener and plant collector John Tradescant (the Elder). Tradescant was gardener and close friend to Sir Robert Cecil, Secretary of State to James I, making gardens for Cecil first at Theobalds Palace, then, when the King wanted Theobalds for himself, at Hatfield House in Hertfordshire. Any gardener soon becomes aware that the plants, shrubs and trees available to us today have come from all over the world, many of them through the efforts of early collectors like Tradescant, who was sustained by financial support and unquenchable curiosity. He has given his name to the 75 species of tradescantias, but introduced many plants besides, including larches from Russia and the horse chestnuts whose conkers and flamboyant spring 'candles' are now so familiar to us. He was also instrumental in introducing and propagating rare tulips at the time of 'tulip fever', when Amsterdam bulbs were sold for huge prices. At Hatfield House (which I will now have to visit again) a figure carved in wood on the grand staircase is believed to be Tradescant, a token of Cecil's high esteem and affection for him.
The novel moves us briskly through Tradescant's association with Cecil, then, after Cecil's early death, on plant-hunting voyages to Russia and the Mediterranean. We follow him through his marriage and birth of his son J (the nickname is Gregory's solution to the inconvenient fact that members of two and eventually three generations share the name John Tradescant), the death of James I, and the early reign of Charles I. Tradescant's expertise is invaluable to both kings and also to George Villiers, Duke of Buckingham, the indulged favourite and lover of both, for whom Tradescant makes a garden at New Hall in Chelmsford. Gregory invents a passionate relationship between Tradescant and Villiers to signify the difference in outlook between our John and his growing son which becomes the unifying theme of the novel: while Tradescant the Elder would never question his master and his king, the Puritanical younger John intends to be his own man, despising rank, wealth and position. Even though Buckingham, frequently referred to as 'the most beautiful man in England', is vain, capricious and irresponsible, a reckless and incompetent naval leader unworthy of the devotion he inspires, John loves him with a passion, explicitly sexual, that eclipses his relationship with his loyal wife Elizabeth. John remains in thrall to the dazzling younger man even after finding himself cursorily dismissed when Buckingham finds himself back in favour with King.  
Both Johns and their family eventually set up a home, The Ark, in Lambeth, building the collection which will lead to the formation of the Ashmolean Museum in Oxford, but still the elder John is at the disposal of the King and his new Queen, the Catholic Henrietta Maria, summoned to make their garden at Oatlands Palace. As the plague in London claims victims, and feelings rise against blatant social injustice and the  King's blinkered outlook, the scene is set for the Civil War in England and for the young John, in Gregory's sequel, to sail to Virginia in search of a new life there.
Philippa Gregory gives perplexing thoughts to Tradescant, even a glimmer of awareness that environmental forces are at work in the vast diversity of plant life he discovers. "It is madness to think that God should make a dozen things almost the same but a little different. All a man of sense could think is that God did not make them. That the earth they feed on and the water they drink makes plants in different areas a little different, and that is the only reason that they are different. And if that is true, then I am denying that everything in the world was made first by my God in Eden, working like a gardener for six days and resting on the Sabbath. And if I am denying that, then I am a heretic damned." The burning of heretics at the stake is in recent memory, so it's understandable that Tradescant, even under the more benign rule of James I, doesn't often air such thoughts.
'Sexed-up' though the story undoubtedly is (I couldn't help wondering what the real Tradescant would make of his helplessly besotted, bisexual fictional counterpart) it gives a captivating picture of this turbulent time, and especially of the life of the great gardener and plant collector whose passion has shaped our landscape and horticulture. "He is a gardener, and an adventurer, and a man who was always there when history was being made," his employee says of him at the end. "He's the greatest man of this age for all that he's always been someone's servant."
My reading was constantly interrupted by pauses to look up people, places and plants, and now I'm now eager to read Virgin Earth. A new rose in my garden this year owes its purchase to Tracy Chevalier, whose At the Edge of the Orchard introduced me to the Victorian plant collector William Lobb. After reading that I couldn't resist planting the William Lobb rose, and am now planning to buy an indoor tradescantia to mark my reading of Earthly Joys.
What next? Can anyone recommend more novels about significant gardeners or collectors?