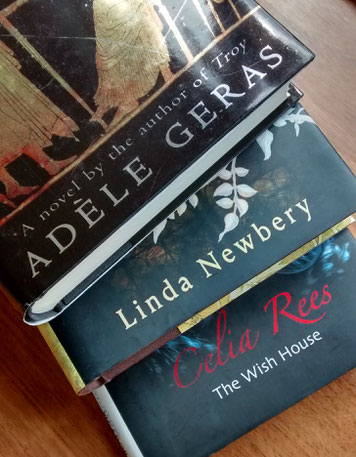 Although I've made occasional contributions to blogs over the last few years, I'd never been tempted to start one of my own, until recently. And no sooner did I start on one, than a second came along.
I was thinking that I must have written almost a hundred reviews for Armadillo magazine, especially since I began editing the teenage section nearly eight years ago. I thought of putting a selection of these pieces, for books I particularly admired, here on my website, along with reviews of anything else I enjoy. Apart from the occasional young adult or 'crossover' novel from Armadillo, I decided that the focus would be on books for adults - fiction and non-fiction - and that I'd invite friends to contribute now and then.
I'd barely made a start when I mentioned the idea to my friend Celia Rees (author of WITCH CHILD, PIRATES, THE WISH HOUSE and many other well-known young adult titles). Celia suggested that we start a joint literary blog as a separate entity. Although I think she'd forgotten this by next time we met, I hadn't, and we decided to ask our mutual friend Adele Geras to join us as host. Adele's books include TROY and ITHAKA for teenagers, and several adult novels, among them FACING THE LIGHT and her latest, LOVE, OR NEAREST OFFER. Among us we have quite a pool of writer friends to draw on as guests, and the advantage of the joint blog is that all three of us, plus our contributors, will busily Tweet and Facebook each time a new review appears, so the blog will have a wider reach than any of us could achieve on our own.
Adele, who devours books like no one I know and loves reviewing, agreed very readily, and we started planning. After considering various names we came back to Celia's first idea, WRITERS REVIEW, which is simple and literary. (I was a little anxious that people might think we'd missed out an apostrophe. Did you think that? Of course it could have been WRITERS' REVIEW (review belonging to writers) but we prefer WRITERS REVIEW (here are some writers who are reviewing). And now I've had to put brackets inside brackets. Anyway, since the launch of our blog, last week, no one's mentioned the apostrophe or suggested that we're illiterate, so maybe I needn't have worried.)
So, we're off!  We'll be posting frequent reviews, with regular guests starting in September, and I hope you'll have a look, and maybe add a comment. I shall continue my own website blog as well, but will put things here I don't put there, and maybe vice versa. To kick off, we've got RIDDLEY WALKER by Russell Hoban, THREADS by Julia Blackburn, FINGERS IN THE SPARKLE JAR by Chris Packham (which first appeared here) and THE ESSEX SERPENT by Sarah Perry, which is newly-published and quite justifiably getting lots of attention. We won't only review new books, though - the blog will be for anything we or our guests have enjoyed and would like to recommend.
I'll hope to see you over there. Here's the link to Writers Review. It has its own Twitter account - @WritersReview1 -  and Facebook page, too, so if you like our blog please help us to spread the word. Happy reading!