THE DAMAGE DONE has had three different covers in the fifteen years since first publication; shown on the right is the one it currently wears. Covers are so important in suggesting the atmosphere of the story. Which of these does it best?
First, a little about the novel. My starting point was - as is often the case - a picture that flashed into my mind. A girl would be standing by a gate, looking out at the countryside on what might appear an idyllic evening in early spring. But she would be alone and afraid. 
At that time I had been reading of horrific attacks on horses in fields - in one case, on a pregnant mare. I wondered who would do such a brutal thing as attack an animal with a knife. I thought of Peter Shaffer's astonishing play Equus, (which stayed in my mind throughout) and it struck me that anyone approaching a large, unpredictable animal in the middle of a field, usually at night, would surely have to know horses and how they behave. This was a frightening thought - why would someone familiar with horses want to harm them?
Although horses - and attitudes to them - would be important, I didn't want the cover to suggest a 'horsey' book. Seventeen-year-old Kirsty, my main character, has had responsibility dumped on her for her brother's horses - he runs a small livery yard. It suits Kirsty, a secret sufferer from panic attacks and fear of public places, not to have to go beyond the stables and yard, but local rumours of attacks make even home feel unsafe. It's a novel about insecurity and recovery in which more than one character feels badly let down by those who should be most dependable.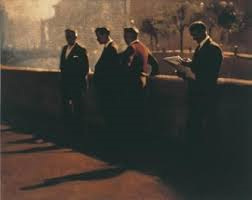 For the novel I'd written before this one, Scholastic, my publisher at that time, suggested that the eminent Irish-born artist Anne Magill should be asked to create a cover design. I immediately liked and admired her work - here's an example - for its subtle lighting, sense of place and the expressiveness of her figures. Although not specific about time and place, they make me think of stills from films of the 1940s and 50s. A Scotsman article describes her as 'the female Vettriano', and it's easy to see the similarity.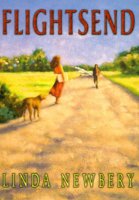 That book was FLIGHTSEND - here it is, with its lovely Anne Magill cover, showing a scene in which Charlie, walking her dog on a long-disused airfield, sees to her surprise a light aircraft coming in to land.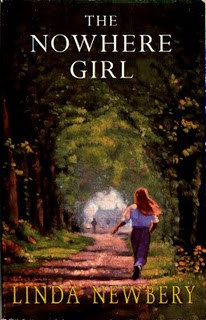 Scholastic then asked Anne for new artwork for the reissue of an earlier novel - THE NOWHERE GIRL. This is my favourite of the three, perfectly capturing the mysterious atmosphere when Charlie, alone in woods near her great-aunt's house in rural France, sees a young girl slipping away.
(There is something similar in all three of these scenes - my main character, alone in woods, by a lake or on a disused airfield, meets someone unexpected. That wasn't deliberate, and I hadn't realised it until I saw these covers.)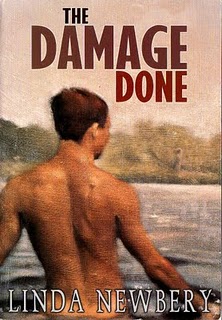 So I was of course delighted when Anne Magill was commissioned as cover artist for THE DAMAGE DONE.
It's a lovely painting of a key episode, with its subdued colours, and I like the suggestion that Kirsty - just glimpsed on the far bank of the lake - doesn't know she's being watched; there's a lot about watching and watchers in the novel. But in my view this is the least successful of the three covers by Anne Magill, and I never felt that it was quite right. The young man shown, supposedly Dally, is too hunky: the book describes him as thin, even skinny, straggle-haired, with deep-set, shadowed eyes, and Kirsty sees him at first as furtive. This young man is not Dally, and the painting shifts the perspective to his rather than Kirsty's.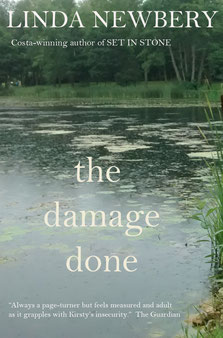 The new cover is by IrisDesigns, and at the moment it's my favourite of the three for this book. What do you think? Possibly it suggests an adult rather than young adult novel; but then a lot of YA fiction is read by adults.  
If you'd like to read more about Anne Magill, or see more of her work, visit her website. Here's the link to the Scotsman article.