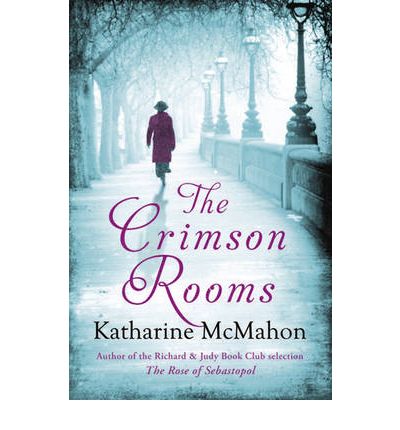 Set in 1924, The Crimson Rooms is very much concerned with the aftermath of the First World War, with the distinction of featuring a young female lawyer – one of the first of her kind – as its viewpoint character. Evelyn Gifford, at thirty, shares the view of many women of her generation that she is unlikely to marry, and looks to her work for a sense of purpose and the chance to bring about change. She is assistant at the law firm of Breen and Balcombe, where the eponymous Breen is known by reputation as a champion of the poor, and – unlike many of his peers – willing to take on a capable, newly-qualified young woman. Evelyn's work involves her in two court cases which form the background to the novel.
Since the death in the trenches of Evelyn's younger brother James, the household in Maida Vale has been exclusively female: Evelyn and her fussy mother, a grandmother and great-aunt. Within the opening pages there are new arrivals: Meredith, a former nurse, and the young boy she introduces as James' son, of whom Evelyn – but not her mother – has been quite unaware. Although the family's finances are already stretched, the newcomers must be accommodated; the capriciously charming Meredith proves to be demanding and unproductive, leaving the boy to be looked after while she attends art classes with new friends from the Slade. To Evelyn, the boy brings touching reminders of her lost brother, and must be cherished. She also sees Meredith as a source of information about James' last days, as the family has had only sketchy details; but when Meredith eventually does confide in Evelyn, a new shock must be absorbed. 
Katharine McMahon's writing gives readers the confidence that we won't be let down. Her portrayals of domestic life (tepid celery soup, lavender and mothballs, limited clothing), class and attitudes are convincing without ever being overdone, and Evelyn is believably a product of her time: intelligent, observant, ambitious but wary, slowly learning to make her way against male intransigence and prejudice. As McMahon points out in an afterword, Evelyn was 'on the horns of a terrible dilemma – her aspiration to be a lawyer must be at the cost of her clients, who in court would be disadvantaged by the sex of their advocate'. The patronising remarks Evelyn receives from judges and magistrates (addressing the bench, she is asked whether the court "is so lowly that it can be used as the playground in which ladies may conduct a flirtation with the law") would be outrageous today, yet she must weather them and prove herself through doggedness and by trusting her insights. Even so, others in her group of women lawyers challenge her for focusing on the saving of individuals, rather than more riskily making them test cases to bring about policy change.
Evelyn's two cases are of equal interest. In one, she learns that children placed in care institutions are routinely shipped out to Canada, where (in the guise of 'home children') some are treated in effect as slave workers. She is determined that Leah Marchant, convicted of abducting her own baby, should be reunited with her two young daughters before this fate befalls them. Seeds are well-planted for this case to be linked to the other: that of an ex-soldier accused of murdering his flirtatious young wife. Evelyn's instinct tells her that he cannot be guilty, and it's she who finds and interprets two crucial pieces of evidence; but McMahon subverts the conventions of murder mystery and courtroom drama with a poignant twist which feels exactly right for the character and situation. Evelyn's emotions are also engaged by Nicholas Thorne, a young barrister with whom she finds herself falling in love – until she has reason to suspect his motives. 
The Crimson Rooms is thoroughly engaging (though the echo of Wilfred Owen's poem The Kind Ghosts strikes a rare false note, in a letter from James to Evelyn). McMahon seems completely at home in this period – attitudes, even Evelyn's own at one point, towards rape and shell-shock are very much in keeping – and has created a strong but fallible character with whom readers can readily identify. While the plot becomes increasingly gripping towards the end, the novel never loses sight of its main theme – the pity of war, and the profound effects of loss on survivors and relatives.