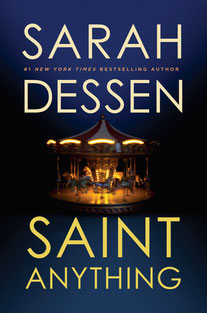 I've never read anything by the American author Sarah Dessen that I haven't enjoyed  and admired. Specialising in ordinary characters low in self-esteem who find worth and purpose through difficult experiences, she excels at portraying family and school life and in particular the pressures they impose on a sensitive, inward-looking teenager like Sydney, the sixteen-year-old narrator of Saint Anything. To my mind, Dessen is a kind of Anne Tyler for young adults; this title, perhaps deliberately, echoes Tyler's Saint Maybe.
Sydney has left her school for a less privileged one, leaving close friends behind in an understandable wish for a new start. Her brother, Peyton, is in jail following a drink-drive accident in which a cyclist, a younger boy, was partially paralysed. Sydney's parents, especially her mother, support Peyton to the extent of seeing him as victim of his own crime, rather than perpetrator; Sydney seems to be the only one feeling guilt and remorse, and Dessen skilfully exploits this powerful premise. When the bravely positive injured boy, David, features in a local fund-raising scheme, Sydney's parents are affronted, while Sydney knows that she must eventually make herself known to him.
Soon, she is swept up by the warm-hearted Chatham family – in particular the irresistible, sometimes irritating Layla, who has the emotional intelligence to support Sydney while blundering through her own relationships with boys. There's also Mac, Layla's quiet, observant older brother, drummer in a band whose attempts to secure a recording deal contribute to the plot. Most important for Sydney is to stop her parents from letting Peyton's situation dominate family life. So blinkered is their mother that she fails to notice the danger Sydney faces from the predatory Ames, a friend of Peyton's.  
In an unsensational, totally convincing way, Sydney stakes her claim to be treated as an individual, to find a way of dealing with vicarious guilt, and – to her own surprise - to begin to understand her brother. The term "fast-paced" is often used in reviews as if automatically conferring praise, but here it's the slow, leisurely pace which draws readers into the tensions and bonds of school and family life and an establishing of values.
There's a great deal of emphasis on food (the Chathams run a pizza-delivery service) and some characters rarely stop eating; the regular intake of pizza, Slurpees, YumYums, popcorn and "fries" will strike health-conscious readers. Pizza delivery, however, serves the plot in various ways, and resisting fast-food is one of the ways in which Mac shows his quiet determination. Dessen's novels are always beautifully-crafted; without contriving over-neat endings she weaves a number of threads into a whole that is completely satisfying. Her fans certainly won't be disappointed, and those reading her for the first time are likely to be delighted that she's written nine more novels.